The Mystery of the Cursed Fleece
An exciting hunt for clues
to discover the 5 Biological Laws of Nature
The book is not available so far.
The printing is planned for november 2023, so you can already pre-order it and get it in december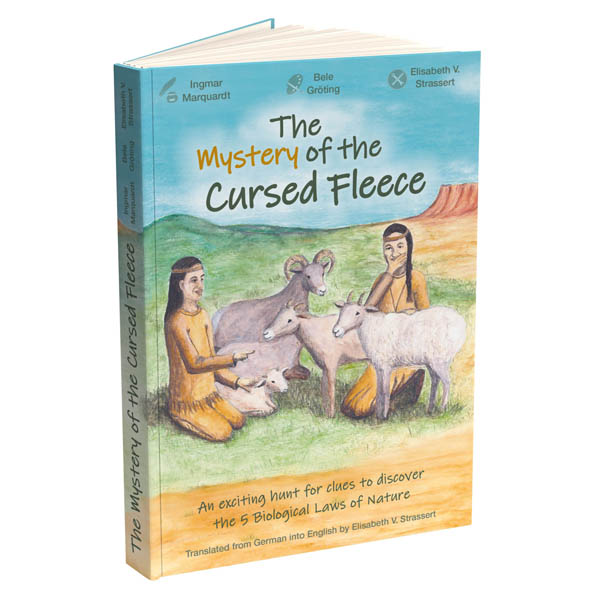 Hardcover edition
By:
Ingmar Marquardt
,
Bele Gröting
,
Elisabeth V. Strassert
Translations:
German (original)
,
Dutch
,
Serbian
(russian and others in progress)
Pages:
128
ISBN:
978-3-9825044-3-8
Price:
15 Euro plus shipping
Note on the low price: Many readers were already irritated by the low price of the book, which would rather correspond to a paperback format with black and white printing. The features of the book (hardcover, high quality sturdy paper and thread binding, 128 pages, full color printing, lovely design, valuable content, a high quality German printer as well as a professional team in the realization) would make expect and justify a price two times higher.
The reason why we nevertheless decided on this minimal price is as follows: It is our heartfelt wish that every family and every child should have the opportunity to become acquainted with this search for clues to a different, new understanding of illness and health, in order to be able to examine this perspective in their own lives. No one should be prevented from doing so for financial reasons. The book is therefore largely intended as a gift and the price is chosen to ensure only that if there is sufficient interest, further editions and translations can be financed.
Flyer: If there is interest, we can also send A6 flyers with the book. In that case, please just indicate in the mail how many flyers we may send along free of charge, so that they can be displayed in appropriate places.
Reviews: Reviews on Amazon (german version, english version, dutch version, serbian version) – maybe you would like to write one as well, that would make us very happy!
Orders:
Directly to illustrator Bele by mail (bestellung@krankheit-ist-anders.de).
Shipping costs Germany: 2 Euro for one book, 4 Euro for 2-19 books, from 20 copies free of charge.
Shipping costs other countries: 4 Euro for one book. 7 Euro for 2 books. Larger numbers on request.
Background
There are many adult introductions to the 5 Biological Laws of Nature (GNM, GHK, …), but almost none that are interesting and understandable for children and young adults. This changes with this exciting adventure story for children 6 years and older:
The objective is to awaken children's enthusiasm while they (pre-)read along with two Native American children as they discover the basics of this completely new way of looking at changes in the body in an adventurously exciting way.
Blurb of the book: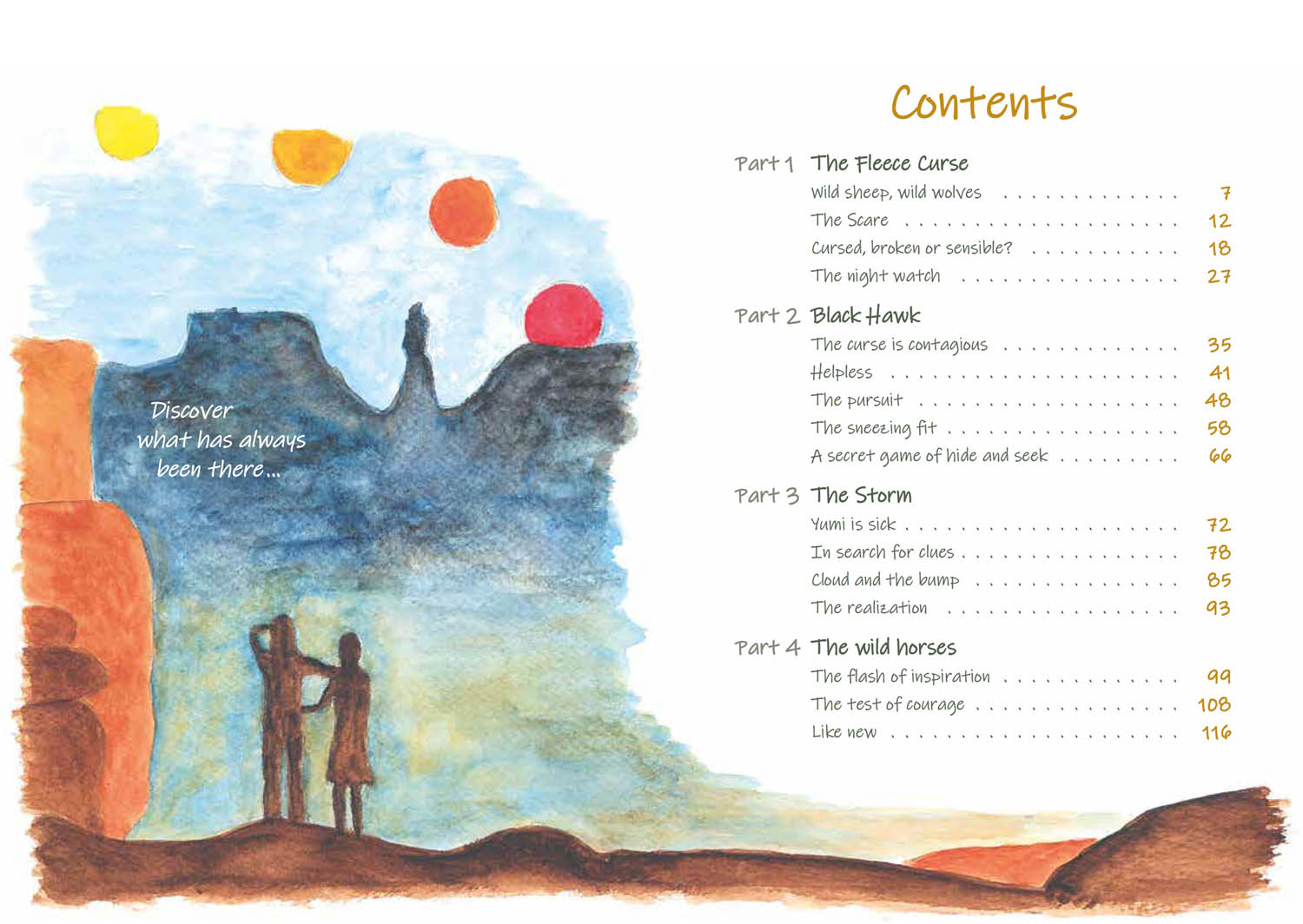 «With this book you are holding Silent Tree´s notations in your hands. He intended that the adventures of Adjun, Yumi, Hama and the other tribe members not only be told around the campfire but to be carried out into the big, wide world.
For those of you who are reading these records with an open heart they hold a great, precious treasure.
We are sharing secrets with you that, at first, may seem like riddles and will guide those of you, who are willing to capture the truth with a pure heart, on the adventurous path to a deep comprehension of your own bodies.
We cannot swear by that the tale which is told in this book has happened like this in every detail. But Silent Tree has entrusted us with his memories – and in his memory, so he said, everything really and truly felt that way.
Come with us now, on the path of Adjun and Yumi! Let´s discover together how their sheep Half Moon´s mysterious fleece growth guides them down a winding path to discovering how our bodies work. Come with us and discover that nature rarely makes mistakes, but that everything buries a deeper meaning.
While reading these notations, always go with your gut and trust your intuition. Now, discover what has always been there. Aho!»
Origin
The book «The Mystery of the Cursed Fleece» is a joint project of Ingmar Marquardt, Bele Gröting, Elisabeth V. Strassert and Petra Appel. Ingmar, as the initiator, wrote the original story in simple language based on his many years of 5BL immersion. Bele drew the beautiful and artistic illustrations. Elisabeth professionally revised the story in terms of language and content and lovingly made it blossom. And finally, Petra rounded everything off wonderfully harmoniously from the layout and created the print-ready typesetting.
Search for translators/editors
We would like to make the book available in other languages. In this document Elisabeth has described the requirements and the procedure if you are a translator or proofreader and are interested. We are grateful for any recommendations in our search for professional translators and proofreaders who, in addition to excellent linguistic skills in German and the target language, remain enthusiastic about the 5BL.
Reading sample:
The fourth chapter is available as a reading sample. Either here as a PDF download or below directly in the browser: